Car Finance Claims with

Have You Been Mis-Sold Car Finance Or PCP? Check Now!
According to the Financial Conduct Authority, commission was paid on 95% of PCP and car finance deals. In these circumstances you have essentially been paying their commission. If they did not tell you this, then it has been mis-sold. Please use our 30 second online form to see if you can make a No Win, No Fee claim today.
Car Finance / PCP Compensation Claims - Start Yours Today

In what is thought to be the biggest financial scandal of the decade, you may be owed thousands in PCP and car finance compensation. The FCA have recently uncovered industry wide mis-selling with commissions paid to dealers and brokers without being disclosed to consumers. We have developed a partnership with the excellent Chan Neill Solicitors to provide you with a No Win, No Fee service, so that you can check to see if you have a claim today.
How much redress (compensation for your loss) may I be owed?
This does depend on factors such as how much finance was taken, the interest rate applied, the length of the repayment term and the structure of the commission model. However, given that there are generally big sums of money involved in purchasing a car, the compensation for mis-sold car finance can run into thousands of pounds. Initially it was thought that only the hidden commission would be recoverable, meaning that an average claim would be around £1,500. However, with the Court of Appeal finding in similar hidden commission circumstances on mortgage broker claims that these type of secret commissions should be classed as a special type of fraud and bribe, it is now expected that the entirety of the interest paid, hidden commission and any other fees may be recoverable, which means the average claim is likely to be almost £6,000.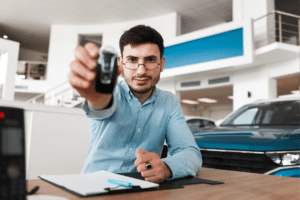 Why is this such a scandal?
As one car dealer openly admits in a recent article: "frankly, we were getting away with murder. We weren't treating customers fairly and were, in effect, charging them to earn us money". A car dealer, acting as a financial broker has a duty of care to you, the customer. They should act in your best interest and sort reasonable finance for you to purchase vehicles. However, this doesn't appear to have been the case. The FCA estimates that 560,000 people have paid over 50% more for car finance than they should have done. Dealer's have been given commission from lenders to sign you up to their finance deals without telling the consumer and to further add salt into the wound, on 42% of finance deals, the broker actually had the ability to manipulate interest rates. What this means is that the dealer could put you on a higher interest rate (higher monthly payments) for no other reason than to earn themselves a higher commission. This is likely to be the biggest financial scandal of the decade and our view is that those who unscrupulously profited from you, need to be held to account and put it right!
Was I mis-sold car finance?
If you have bought a car or other vehicle on finance or PCP between 2008 and 2020 and you weren't told that the dealer would be receiving commission from the lender, then it's highly likely that you have a claim, as 95% of finance deals have a commission model. It's important to know that when arranging finance on your behalf, the car dealer / finance broker should always work in your best interests and give you the best advice. If they have not given you best advice and have gained financially from this, then you will likely have a claim.
There are several reasons why your car finance may have been mis-sold and from the investigation from the Financial Conduct Authority (FCA), there is a high probability that one or more will apply to you. Here are some of the main reasons (only one needs to apply and it has been mis-sold):
The salesperson did not explain they would receive a commission on the car finance
The salesperson did not explain the amount of the commission
The bank / lender did not explain the commission to you prior to the purchase
The salesperson did not fully explain the Terms & Conditions of the car finance
The salesperson did not explore a range of options to find the best finance for your situation
Did you know?
Hidden commission can often be manipulated. Sales people have routinely been putting customers on a higher interest rate than necessary, so that your repayments are higher. They do this in order to receive a higher commission from the lender.
The FCA estimates that higher commission rates could be costing consumers £300 million every year. SortMyCash believe it's actually much worse than this.
Why should you use an expert?
You are free to pursue a claim yourself and can do so. However, unlike in some other mis-selling areas, we would recommend using an expert as this is such a new area unlike PPI, which had been set fully in law. Our view is that the best chance of success is by using an expert. Through SortMyCash and our partner solicitors, Chan Neill Solicitors, we believe you are getting an excellent service, offering you a greater chance of success and unlike many of our competitors it is not at an exorbitant rate. The No Win, No Fee basis is 30% + VAT and SortMyCash obtain our fee for the administration, processing and introduction of clients from Chan Neill Solicitors as set out in our claim documentation. You will never pay more going through SortMyCash than you would going direct – unlike car dealers, we have nothing to hide.
Start your No Win, No Fee claim now
All you need to do to start the process is to fill in our simple online form and then we will walk you through everything and look to get your claim up and running within 48 hours. If you do have your finance documents that will be really helpful to making your claim, but if you don't have them, don't worry it is generally easy to get an electronic copy by phoning the lender – please see 'Additional Documents' below. Fill in our simple online form and one of our friendly advisers will be in touch via email – please add carclaim@SortMyCash.co.uk to your contacts / safe senders.
Additional documentation, information and uploads
Car Finance Claims Process Guide – Simple and Stress-Free Car Finance Claims Process with SortMyCash and Chan Neill Solicitors
PCP Claims Explained – Uncovering Mis-Selling Practices and Your Rights with SortMyCash and Chan Neill Solicitors
Car Finance and PCP Claim Glossary – Knowing all the terms can help you understand everything about your claim
Car Finance Claims – Frequently Asked Questions (FAQs) – These are some of the Frequently Asked Questions that consumers pose to us.
Hidden Dangers of Car Finance and PCP Mis-selling – Many consumers are not aware that these agreements have been mis-sold, leaving them vulnerable to hidden costs and financial risks
Car Finance Claim Blog – Articles about PCP and Car Finance Mis-selling claims and all the latest news
Car Finance Claim Example – This is a basic example of a claim including the loan payment, fees, interest and compensation we would seek to recover along with Chan Neill Solicitors basic fees and how much you would receive
Lender Phone Numbers – if you do not have your car finance agreement and statement of account to hand, you can request these with a simple phone call using these numbers on the downloadable PDF.
Upload Documents – if you have a claim and would like to upload documents including your Letter of Authority, Finance Agreement, Statement of Account, Photo Id and Proof of Address.
Car Finance Claims Brochure – downloadable PDF for additional information and to share with family and friends who may also have been affected.
Legal Case – these are the Court of Appeal claims that we are relying on to put your contract in rescission, allowing you to reclaim all payment for interest, additional fees and the commission.
Letter of Authority – If you require a copy, please download from the link.
Lenders Suspected of Mis-selling
Please Note: Making a PCP or car finance claim against a finance provider or credit broker can be done direct by you personally and doesn't necessarily require expert help. If you would prefer this method to avoid fees, we would advise that you first contact the finance provider or credit broker notifying them of your intention to claim and inviting them to put things right.
If you have not received a response after 8 weeks or indeed you are not happy with their response then you can begin your complaint with the Financial Ombudsman Service (FOS) directly by providing them with details of your complaint, a copy of your finance agreement along with any other evidence corresponding to your complaint. The FOS can take several months to deliver the first assessment of your case.
Even if you do wish to take the claim direct, you may contact us at any time within the process (apart from final decision) to ask us to take your claim up on your behalf.