Car Finance Claims with

Have You Been Mis-Sold Car Finance Or PCP? Check Now!
According to the Financial Conduct Authority, commission was paid on 95% of car finance deals. In these circumstances you have essentially been paying their commission. If they did not tell you this, then it has been mis-sold. Check now to see if you can make a no win, no fee claim.
Car Finance / PCP Compensation Claims - Start Yours Today

How much redress (compensation for your loss) may I be owed?
This does depend on factors such as how much finance was taken, the interest rate applied, the length of the repayment term and the structure of the commission model. However, given that there are generally big sums of money involved in purchasing a car, the compensation for mis-sold car finance can run into thousands of pounds.
Was I mis-sold car finance?
If you have bought a car on finance in the past 10 years, then it's quite possible you have a claim. It's important to know that when arranging finance on your behalf, the car dealer / finance broker should always work in your best interests and give you the best advice. If they have not given you best advice and have gained financially from this, then you will likely have a claim.
There are several reasons why your car finance may have been mis-sold and from the investigation from the Financial Conduct Authority (FCA), there is a high probability. Here are some of the main reasons (only one needs to apply and it has been mis-sold):
The salesperson did not explain they would receive a commission on the car finance
The salesperson did not explain the amount of the commission
The bank / lender did not explain the commission to you prior to the purchase
The salesperson did not fully explain the Terms & Conditions of the car finance
The salesperson did not explore a range of options to find the best finance for your situation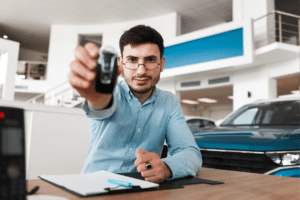 Did you know?
Hidden commission can often be manipulated. The salesperson could have actually put you on a higher interest rate, so that your repayments are higher in order for them to receive a higher commission from the lender.
The FCA estimates that higher commission rates could be costing consumers £300 million every year.
Start your claim now
All you need to do to start the process is to fill in our simple online form. If you do have your finance documents that will be really helpful (but not critical) to making your claim. Get in touch with our friendly advisers now. Fees apply as detailed in our Terms and Conditions.
Please Note: Making a claim against a finance provider or credit broker can be done direct by you personally and doesn't necessarily require expert help. If you would prefer this method to avoid fees, we would advise that you first contact the finance provider or credit broker notifying them of your intention to claim and inviting them to put things right.
If you have not received a response after 8 weeks or indeed you are not happy with their response then you can begin your complaint with the Financial Ombudsman Service (FOS) directly by providing them with details of your complaint, a copy of your finance agreement along with any other evidence corresponding to your complaint. The FOS can take up to three months to deliver the first assessment of your case.
Even if you do wish to take the claim direct, you may contact us at any time within the process (apart from final decision) to ask us to take your claim up on your behalf.