Debt Solutions with

SortMyCash and Debt Guardians – Why It May Be Perfect For you

The burden of having debts that you can't afford can become one of the most stressful periods of a person's life. The worry, the anxiety, the chaser letters and threats. Even with the best of intentions, the best planning and trying to balance the books, if you are feeling like you are drowning, we're ready to get you some help; to get you that lifeline, to let you see the light at the end of the tunnel.
We have partnered with the outstanding Debt Guardians to help people with unaffordable, unsecured debts over £6,000. As long as you can demonstrate that the repayments are unaffordable and as long as you can pay at least £100 per month, Debt Guardians can talk to your creditors to see if they can arrange to sort out an affordable monthly payment which will get you free from your troubling debts and interest in 6 years. Yes, you pay what you can reasonably afford and this will cover all your debts.
Why Debt Guardians? Their reputation in helping people get debt free, really does speak for itself. With over 1,000 reviews they have earned a Trustpilot rating of 5.0 out of 5 stars; this is rare to say the least! We see their friendly and helpful nature in really looking out for their clients and with the expertise and professionalism required to find the right solution for those in need.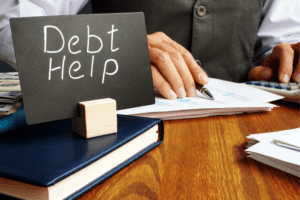 The Debt Help Scheme is called an IVA; Individual Voluntary Arrangement. Whilst it can be an excellent solution for those that really need it, it does have downsides; such as negatively affecting your credit rating for up to 6 years from the date it commences. Nevertheless the positives for those that simply can't afford their debts, generally far outweigh the negatives.
If you have unsecured debts of over £6,000 with repayments that you can't afford, fill in our simple online form and talk to an expert today.
Let's see if we can find you a solution and take that stress away!
Please Note: This solution may not be suitable in all circumstances. Fees apply. Your credit rating may be affected.
Our recommended partner Debt Guardians is a trading style of Guardian Insolvency Ltd which proposes and administers Individual Voluntary Arrangements.